16sep5:30 pm6:30 pmWithinReach's Learning Series Virtual Event: Early Childhood Development Event Organized By: WithinReach Event Type:Webinar
Event Details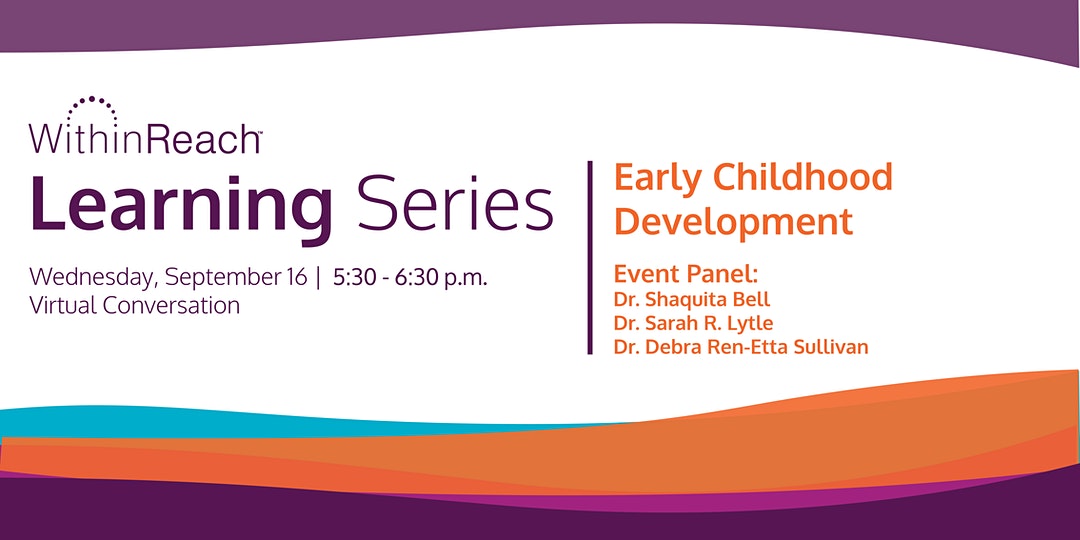 WithinReach's Learning Series (Virtual) Event: Early Childhood Development
About this Event
Please join us for the WithinReach Learning Series event on September 16, 2020. Hear from a panel of experts on one of today's most complex and consequential health matters—early childhood development.
Looking beyond the essential elements of monitoring, milestones and screening, the event focuses on what's been missing in the early childhood development conversation to date. Through a dialogue framed in both science and social inequities, we'll discuss some of the systems of support for families and the actions necessary to move health for all forward.
Our program will consist of a moderated panel discussion, followed by a Q&A. The panel discussion begins at 5:30 p.m. We invite you to stick around from 6:30 – 7:00 p.m. for an optional breakout room to continue the conversation.
Important Notes:
WithinReach created the Learning Series as a way to initiate much-needed conversations with our partners, advocates and the community. We appreciate open and spirited discussion, however authentic communication only exists when we remain respectful of other perspectives and ideas.
This event will be recorded to be viewed by others in the future. By registering for this event you consent to having your participation recorded. If you have any questions or concerns, please reach out to Julie Greenberg at julieg@withinreachwa.org.
Bios
Moderator Kay Knox, CEO of WithinReach, is honored to team up with a panel of key leaders in early childhood development; with expertise in pediatrics, brain science, education and health equity.
Moderator
Kay Knox, MPA
As Chief Executive Officer at WithinReach, Kay has helped lead the work of WithinReach for more than 20 years. Before serving as CEO, Kay served as both Deputy Director and Chief Operating Officer. She received her Master of Public Administration degree from the Evans School of Public Policy & Governance at the University of Washington, and has worked in the public health and not-for-profit sectors for more than 25 years. Throughout her career, Kay has focused on improving health outcomes in the areas of chronic disease, AIDs and STDs, and Maternal, Child and Family Health.
Panelists
Dr. Shaquita Bell
Born and raised in Minnesota, Dr. Shaquita Bell is Cherokee on her mother's side and African-American on her father's. She completed medical school at the University of Minnesota, then went on to pediatric residency at the University of Washington, which she completed in 2009. She remained at Seattle Children's completing a chief residency year, becoming the first Native American chief resident. Dr. Bell is currently a pediatrician at the community health center, Odessa Brown. She is the site coordinator for pediatrics residents. Dr. Bell is a Clinical Associate Professor at Seattle Children's and the University of Washington in the division of General Pediatrics. Additionally, she is the Medical Director of the Center for Diversity and Health Equity at Seattle Children's. She is the Chair for the American Academy of Pediatrics, Committee on Native American Child Health. Dr. Bell also runs the trafficking workgroup at Seattle Children's.
Dr. Sarah R. Lytle
Dr. Sarah R. Lytle is the Director of Outreach and Education at the Institute for Learning & Brain Sciences (I-LABS) at the University of Washington. Dr. Lytle is an expert in child development with more than a decade of experience in connecting the science to practice in the early learning field. She is experienced at communicating complex research in accessible ways to parents, early learning providers and policymakers. Dr. Lytle has a B.A. in Psychology and Spanish from the University of Notre Dame and a Ph.D. in Developmental Psychology at Temple University. Her research focused on infants' and toddlers' language development. Dr. Lytle is a member of the Zero To Three Academy of Fellows.
Dr. Debra Ren-Etta Sullivan
Dr. Debra Ren-Etta Sullivan is Past President of the Seattle Black Child Development Institute, where her primary focus was implementing appropriate learning environments for Black children and working with families and communities to increase their advocacy for their children. Her third book, Cultivating the Genius of Black Children, guides teachers in creating classrooms that support the learning needs of Black children and many other children with similar learning needs. She is Founder and Executive Director of Ashé Preparatory Academy, a P-12 inclusion school model based on cultivating genius for community action. Dr. Sullivan is co-founder of the Praxis Institute for Early Childhood Education – a diverse organization providing education and professional development. She has worked in higher education for 40 years as a teacher, researcher, curriculum developer and administrator and is a Past Governing Board Member of the National Association for the Education of Young Children (NAEYC).
more
Time

(Wednesday) 5:30 pm - 6:30 pm PST