Systems of Care for CYSHCN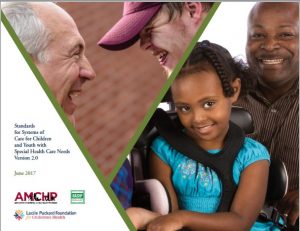 The National Standards for Systems of Care for Children and Youth with Special Health Care Needs (CYSHCN) define a comprehensive, coordinated, and family-centered system of care for CYSHCN, who make up 20 percent of US children.
Core Domains for System Standards
Identification, Screening, Assessment and Referral
Eligibility and Enrollment in Health Coverage
Access to Care
Medical Home

Pediatric Preventive and Primary Care
Medical Home Management
Care Coordination
Pediatric Specialty Care

Community-Based Services and Supports

Respite Care
Palliative and Hospice Care
Home-Based Services

Transition to Adulthood
Health Information Technology
Quality Assurance and Improvement
Using the National Standards
Many resources are available to help you use the National Standards to design, strengthen, and improve systems that serve CYSHCN and their families.
National Academy for State Health Policy (NASHP):
National Standards for CYSHCN online toolkit provides links to critical tools, fact sheets, and resources that states can use to design, strengthen, and improve health care systems serving CYSHCN and their families.
Association of Maternal and Child Health Programs (AMCHP):
This series of tip sheets highlights how the National Standards for CYSHCN can be used by: