Autism Center of Excellence Certification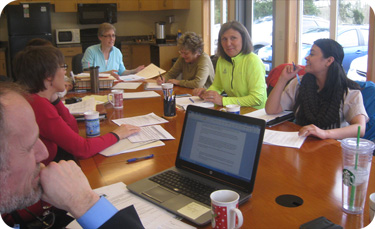 Seattle Children's Autism Center experts provide the Autism Center of Excellence (COE) trainings, in partnership with communities, through a contract with the Health Care Authority (HCA).
Purpose of the COE Training
To increase the number of qualified clinicians (COEs) across Washington State who can appropriately diagnose children and youth with autism
Help children and families access needed services as appropriate, including writing a Medicaid/Apple Health prescription for Applied Behavioral Analysis (ABA). COE required for Managed Care Organization (MCO) prescription approval.
As of Oct 17, 2019 , an autism diagnosis from a COE provider can also be used by a family for Developmental Disabilities Administration (DDA) eligibility.
Who is Eligible to Become a COE
The HCA determines which primary care and other clinicians  can become COEs. Currently the list includes medical physicians working in primary care, specialty physicians, clinical psychologists, ARNPs and primary care naturopaths.
What the Training Covers
Evaluation and diagnosis of children exhibiting signs and symptoms of autism spectrum disorder and determining which evidence –based treatments, including ABA, are likely to be helpful for individual children
How to write an approved prescription for ABA treatment
Billing
Paperwork and process to complete to become a HCA recognized COE after the training
COE Training Logistics
New! Virtual trainings:
We are pleased to announce our first two virtual COE training on Friday July 31, 2020 and Friday September 18, 2020. These trainings will be different than past trainings, so please read the following details carefully.
· Interested providers will be required to complete the free self-paced online PediaLink course "Identifying and Caring for Children with Autism Spectrum Disorder: A Course for Pediatric Clinicians" developed by the American Academy of Pediatrics Council on Children with Disabilities Subcommittee at least 4 days prior to the COE training.
The course, a combination of videos and readings, educates pediatric clinicians about evidence-based practices in care for children with ASD and is grounded in recommendations from the AAP clinical report, "Identification, Evaluation and Management of Children with Autism Spectrum Disorder."
You will need to create a free account and register with the AAP to sign up for the course. The 7 modules take approximately 6.5  hours to complete and are eligible for free AMA PRA Category 1 Credit™  (you can also earn free Maintenance of Certification( MOC)) Part 2 points but these are not required for the COE training)
· COE organizers will send registrants an online survey that elicits specific questions and provides faculty with information that must be completed and submitted by all providers prior to the training.
· The on-line Zoom Videoconference training will include a facilitated discussion led by Gary Stobbe, MD and Jim Mancini MS, CCC-SLP as well as other panelists to respond to questions posed via the online survey.  There will be Washington State specific information about how to do an autism evaluation that meets Health Care Authority criteria and how to do this in your clinic. We will also have regional breakouts to allow deeper discussion with regional experts and community/agency partners.
Inperson trainings (temporarily suspended due to COVID-19)
The one and a half-day COE trainings are provided in different locations across WA to make it easier for local providers to attend, but providers can attend trainings in any part of the state.
Seats are limited.  Priority is given to primary care providers who can diagnose as COEs, then other clinicians who can diagnose and then community partners supporting COEs in their work (e.g. School Medical Autism Review Teams (SMART), school clinicians, autism treatment providers etc.)
More information about COEs and Autism Diagnosis in Washington State.
Upcoming virtual trainings: Flyer for both
Friday July 31, 2020.  9 a.m – 4 p.m.  (Catalyst survey returned no later than Monday July 27)
Friday September 18, 2020.  9 a.m.- 4.m. (Catalyst survey returned no later than Monday September 14, 2020)
Please complete the form. All fields marked with a * are required.
-
1
2
3
4
5
6
7
8
9
10
11
12
13
14
15
16
17
18
19
20
21
22
23
24
25
26
27
28
29
30