23jul12:00 pm1:00 pmComics for Health Promotion Event Organized By: Northwest Center for Public Health Practice Event Type:Webinar
Event Details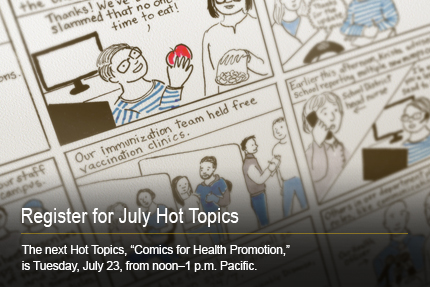 What kinds of messages are you drawn to? In the July session of Hot Topics in Practice, cartoonist and communications specialist Meredith Li-Vollmer, PhD, explores how comics can be used for creative public health messaging.
This one-hour webinar will introduce the field of graphic medicine and speak to how the tools and principles are being translated in new ways to public health work. Participants will have the opportunity to learn from examples in health promotion, risk communication, and advocacy ranging from climate change to preventing opioid misuse. The presentation will also include tips for how small and low-resourced health departments can begin this work or borrow from existing efforts.
Register today to learn how comics offer a versatile and creative way to engage public health audiences.
IMPORTANT NOTES ABOUT HOT TOPICS
Speaker slides are posted on our website the morning of the webinar. Each session is recorded and made available by the next day. Audio is available through computer or by phone. Due to differences in internet quality at viewers' locations, we cannot guarantee that computer audio will be smooth and continuous. If the audio cuts out and is distracting, please call in on the provided phone line instead.
Hot Topics in Practice is a monthly webinar hosted by the Northwest Center for Public Health Practice. Guest speakers from local, state, tribal, and national organizations present on current issues affecting public health practice.
more
Time

(Tuesday) 12:00 pm - 1:00 pm PST